End of First Semester is here, along with the three-day MLK Weekend. But from the way things feel around school, you'd think it was June and not January.
Everybody needs a break. It's my first year in this building so I don't have first-hand knowledge if this year is an outlier, or if this is just the culture. But I have my suspicions.
---
What I do know is this: That thing about students blowing off steam during Finals Week is real. Back in the day at IU, it was some acquaintances of ours, art students, who used their oversized art portfolios to uh, borrow, some cafeteria trays which we then used to go sledding down the hills in front of our dorm.
Here in the 21st century it probably takes some other forms. Like my engineering students who were playing "Water Pong" with a bunch of Red Solo Cups left over from one group's entry in the Ballandia project.
Students have been working on their Ballandia worlds (kind of a Rube Goldberg/roller coaster set up, inside a virtual 2x2x2 foot cube) since before Christmas Break. For some, the plan came together easily and they methodically built their design, staying on course to finish by the due date.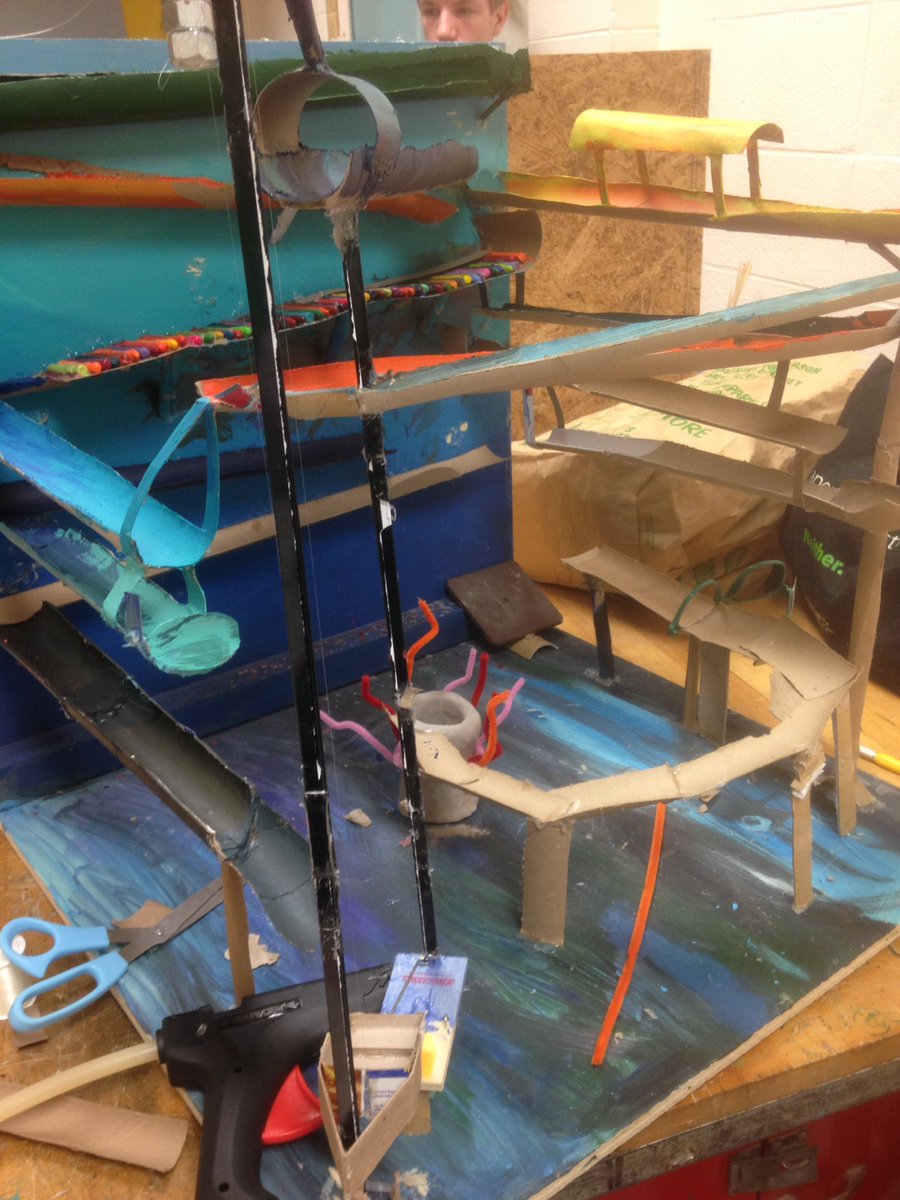 For others: a complete tear-down and re-build, 96 hours before ship.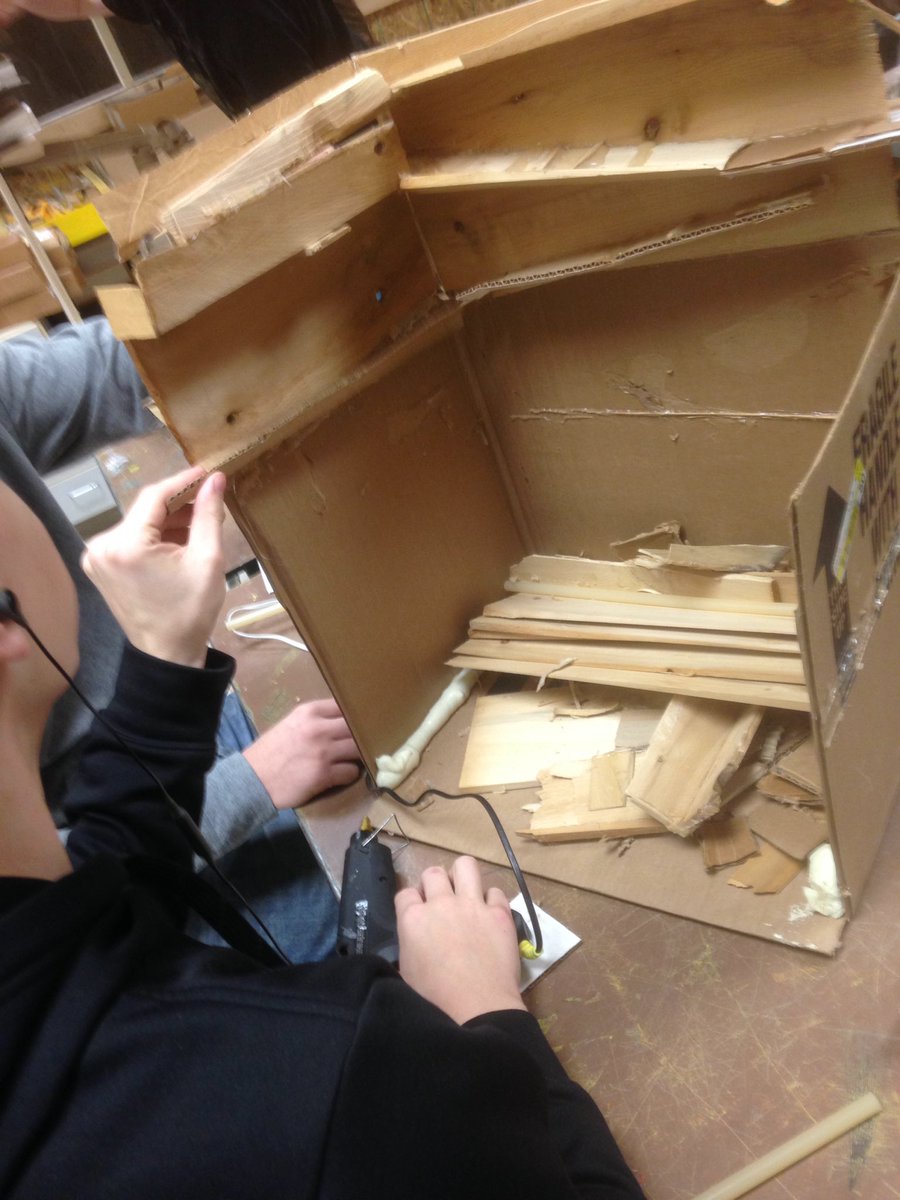 The tension was palpable leading up to Preso Day. Thursday before the due date I had, no lie, 50 kids in my classroom putting finishing touches on their projects. About 95% of the groups poured heart and soul into the effort. And then during presentations… heartbreak. So many found out their design (which worked 9 times out of 10) would fail (that 1 time out of 10) at the worst possible moment. With three trials, most were able to get at least one satisfying run out of their world, (and get the points they craved), but emotions were close to the surface.
And afterwards, those emotions spilled out: Light. It. Up.
---
So, three-day weekend, end of semester… Benchmark? Or Celebration?
Or something else…
So, this tweet from a student (not one of mine). Yikes…
I mean (aside from the construction-related issues) most of this stuff happened at every school I've ever taught in. Or attended. But "mental breakdowns over finals" sounds like a thing that maybe should concern us a little bit.
---
So, Mr. Urban Teacher: What's it like over there?
Here's a place to start. My school offers a Varsity Academic Letter.
The criteria for achieving the Varsity Academic Letter, the student must: maintain a 3.500 grade point average for two consecutive semesters and be enrolled in VHS for two consecutive semesters.

If the student has a semester under a 3.500 grade point average, the student will have to have two more consecutive semesters to earn a second chevron.

Varsity Academic Awards will be passed out in the fall and the spring.

Students have the opportunity to earn one Varsity Academic Letter, six chevrons and six certificates before they graduate from Valparaiso High School.
This fall we awarded 498 students that letter. That's like 25% of our entire student population. Yeah, no pressure, kid. Just be perfect.
---
During the interview process last spring, I was asked: "Are you the best teacher in your building?" Coincidentally, just that day I had done a peer observation on one of the best, most innovative, most committed teachers in our entire district. Earlier that week I chance to bounce ideas off a 25-year veteran of the HMD, National Board Certified, who is now an instructional coach. My answer in the interview: "Nope". Which I think raised some eyebrows, until I related my interactions with two of my teaching mentors.
That school, which not so long ago was under threat of turnaround status under the state's version of No Child Left Behind, just won state honors as a top Title 1 school. That happens because of strong leadership and a faculty willing to dig deep, and do whatever is necessary to improve student outcomes.
At my new school, we want to improve too. Where do you go when you are already an A-rated, Four-Star school? We want to consider ourselves Top Ten in the state, by any metric. So there is a constant push to be better. Nobody wants to let up, because you know the rest of the department is just killin' it on the daily. Everybody's good. Real good. So, you know, no pressure, kid.
The ironic part is: among the changes being implemented next year are a couple of things that are very familiar to me, things we had been doing at my former school for a while. A 9th-grade Support class. Looping 9th and 10th grade students with a team of teachers. And something new I've been waiting for years to be part of – a 1:1 initiative, where every student will have a device, in every class.
So, what's it like over there? This is what it's like: A Challenge. A New Challenge. But: A Challenge.
But that's not news, to anyone who's ever taught (or been a student), in a city or in a well-off suburb or anywhere. The challenge is the same, regardless of location, or socio-economic status of our kids. It's just challenging in a different way.
No pressure, Kid. Just be perfect.