A live look-in to my class as I try to teach solving absolute value equations:
Any resemblance between Axel Foley and my students is purely coincidental. But there are days when this is what it feels like to be me.
The hook to solving absolute value equations is: there are two cases. Two numbers (say 5 and -5) both have the same absolute value , because they are both the same distance from zero on a number line. So students need to consider both cases when solving the equation. Which means writing and solving Two Equations. To solve One Problem. Ugh.
They refuse.
And I might as well be talking to the wall.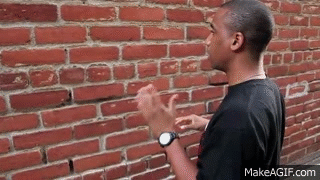 Here's the smart way to do it, courtesy the great Kate Nowak.  I'll try it that way again sometime.
But for one day, just for One Shining Moment, they were writing and solving two equations. Making sure their table partners did too.
What's the secret? Grudgeball.
Who knew? All it took was a little cutthroat competition to get a handle on this skill.
---
Anything gets old if you do it too often. Kahoot!, Speed Dating, all of it. My students even grumbled about 3-Act Math last week. (I think I bought myself a reprieve when they nailed the "girl scout cookies in the trunk" edition.) So: My Never-ending Quest for new review ideas. (As an aside: it's OK if they are other people's ideas. That's what the #MTBoS is for).
Enter: Grudgeball
PPT file here: alg-ii-3-4-4-4-6-grudgeball-review
Shorter version, if you didn't click the link: Teams of students work on a math problem. Each team starts with 10 Xs on the scoreboard. Each team that works out the problem correctly can erase two Xs from the total of the other teams. And thus alliances are formed and strategies are planned:
"Take out the smart people."
As one of my little cherubs remarked after class (with a wry smile on her face): "There's so much love in this classroom, I swear."
Of course the best strategy is only as good as your three-point game. I mean, you all are from Indiana, right?
Teams can earn the right to erase 4 or 5 Xs by making a basket from about 10-15 feet out. Paper ball in a wastebasket, or nerf ball into a nerf hoop, as classroom equipment dictates. My 2nd hour class? Clang. Brick. Oooooo…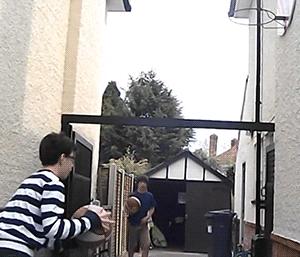 My 5th period are ballers tho.
And the 7th period? Savages. By far the most cutthroat. By. Far. They turn on each other like soap opera villans.
---
The Indiana-based teacher and author Matt Miller (Ditch That Textbook) wrote about how infusing principles of video gaming into his classroom changed the way his students looked at (and engaged with) something as basic as a unit review.
They call it "Gamification". Based on what I saw in my classroom for 50 minutes in each of three sections of Algebra II, I call it Fun and Learning.
Seriously, one of the girls pictured above asked me if we could keep playing Grudgeball even after we finished the quiz today. Who does that?
Engaged students, that's who does that.
My go-to catchphrase leading up to a quiz, or any moment where I'm checking for understanding, is: "Show me something incredible, will ya?"
What they showed me this week…. man. "Incredible" is an understatement.