Second quarter is underway. Quadratics are here, in all their parabolic glory. In Algebra I, the quadratic unit was pretty much the culmination of the year. In Algebra II, it's the end of a quickie nine-week refresher course.
And based on what I see and hear when we start talking "axis of symmetry" and "zeroes of a function", I have to assume Algebra 1 never happened.  Agent J, do your thing: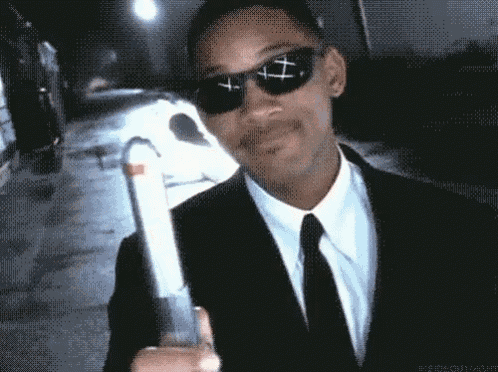 I've had to reteach foundational skills in every chapter thus far this year. We literally start at Level Zero with everything.
My kids are good kids, just… math is not a priority to (most of) them. That's cool. Let's build in some support then. We can't just plow thru the sections, throw a day of review at them and give a quiz, then move on. It's a recipe for disaster.
Multi-day review is now the new normal. One, Two, Three days… whatever it takes.
This time around we started with a set of review problems, split between standard form, vertex form, and intercept form. Students group up, bounce ideas off each other, peer-tutor and correct, all while I circulate and help my students who are most in need of a push to get started. Worked-out answer key is on Canvas so students can check their work, even outside of classtime.
Then the next day: Two Truths And A Lie. Hey, all the cool kids are doing it. Sarah Carter and Jon Orr are amongst those who wrote about it. And after this day, I can see why:
This slideshow requires JavaScript.
Massive amounts of thinking and collaborating and getting up and moving around and proving. Awesome. Here's the document I put together for the students to use (pdf):  Two Truths And A Lie Template.
Day Three it's Marbleslides. Happens to be a Friday, which is perfect. Because Children Must Play™️.
By the way, Marbleslides is designed for a 2:1 environment. Matt Vaudrey is among many who are very large proponents of pairing students up on one device for purposes of fostering student conversation and collaboration. I made sure to include "talk it over with your partner, make a plan, draw a ramp with your finger, before you start randomly changing numbers" in my directions on every screen. I think it helped.
Then a performance assessment (Graphing Quadratics Three Ways Miniposter Project) for graphing parabolas next week. They are making a Green Sheet for notes. I sent home a reminder through Canvas including a photo of the skills they should be able to display:
Maybe there's a better name than "review". "Practice" maybe? Or "extension"? Right now I feel like I'm gonna just call it "teaching" and leave it at that. Because we can't just leave them there….
I know I'm falling off the pace, a luxury I won't have next year when we de-track Algebra II. But for now, it's doing what we have to do for the kids to get what they need to get.
So trendy. That's a bandwagon I'll gladly jump onboard.