I heard a story the other day from a woman starting a new job. She was told by the company's most senior account executive that the average length of employment for sales staff there is six months.
He himself had been there all of two years.
Yikes.
There are jobs out there, people… that will grind you up and spit you out.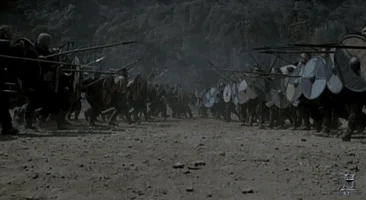 I love my job. Teaching is awesome. It's pretty much guaranteed that somebody's gonna do or say something to crack me up every single day. And don't tell anyone, but: I love summers off. Don't @ me. We all need a chance to recharge. Yeah, I'm getting my planning done, slowly, but let me tell you: Afternoon Naps are pretty sweet.
---
But these days I'm starting to look at the End Game.
As humans we evolved to always be looking for danger on the horizon. It's a built-in survival mechanism. And I can see the enemy forces massing:
I think often these days about a couple of teachers I've had the opportunity to work with, one as a colleague and one who was a coach during my days as a sportscaster. Good men.
Both of these guys put in their full 30 years in education. Both worked closely with students in the classroom and in athletics. They literally gave their lives to kids. And both died far too young, one just before finishing his career and another just after. You just had to read the Facebook testimonials from former players, or see former students at the wake, to know what these guys meant to the young people who had been around them.
Anecdotal, I know, but what I am coming to recognize more and more is: There is no retirement. Especially not as it was sold to Baby Boomers throughout the late 20th century – a Del Webb home in The Villages or Summerlin, an RV to ramble across the country visiting grandkids, an occasional cruise or European vacation. Take a look at the state of public pension plans these days. Most of us are going to work until we die.
This is your life.
---
So, what's a life of service worth?
That last sentence from Blessed Oscar Romero is featured on the back of one of the Spanish National Honor Society shirts at my school. Fitting, because that's teachers, right there: our value is not in what we have, but in what we are.
Here's more Romero: "There are many things that can only be seen through eyes that have cried." That's teachers, too. Pope Francis declared the Archbishop of San Salvador a martyr in 2015. He'll be a saint soon.
Meanwhile, this week the Holy Father established a fourth path to sainthood:
"those Christians are worthy of special consideration and honor who, following in the footsteps and teaching of Jesus, have offered their life voluntarily and freely for others and have persevered in this to death."

-Pope Francis, "Lettera Apostolicae Motu Proprio Datae De Oblatione Vitae.", July 11 2017
Not sure Francis had teachers in mind with this declaration. It's more directed towards those who give their lives through extreme charity, working closely with people with contagious diseases, for example. I hate that whole "teacher-as-martyr" meme worse than most folks hate the "super-teacher" meme. I can definitely see the connection though.
But: Here's the deal, Catholic or not. We're in. For life.
We're not Saints, most of us teachers. But we can be "little-s" saints.
We can live joyfully. For others.
It's not a burden, it's a blessing.
"God gave us memory so that we might have roses in December."
So keep gathering those roses. It's July now. It'll be December soon.