I'm definitely not a DIY guy. I'm not gonna have an HGTV home repair show any time soon. Honestly if I had a time machine the one thing I would go back and get (even more than a masters degree) is home improvement skills. I picked up a few things from my dad, and later on, my next door neighbor (the one who landed at Utah Beach on D-Day, a fact I never knew about him until I had lived next door to him for like 25 years, and then only because his wife let it slip in casual conversation). My older brother, who traded handyman work for room and board in his B-Town apartment complex back in the day showed me some plumbing and electric. I know literally just enough to be dangerous. But, I did a couple of things this week:
This slideshow requires JavaScript.
Mrs. Dull picked up the appliances on facebook from a guy who had just renovated his kitchen and needed to unload his used items. The price was definitely right.
My father-in-law has the full range of dad skills (he rebuilt a Harley, if that tells you anything), and he has a pretty good sense of my skill level. If he doesn't think I can handle a project he'll tell me. If he thinks it's in my range he'll point me to YouTube. So we've pretty much learned to check online first before we give him a call:
I had to go back and check the video a couple times, and stop to check the connections on the new machine (which didn't exactly match the version in the video) but it got done. I'm not gonna hire myself out for kitchen renos anytime soon. But it's good enough for our purposes at home. One time, right now, just after watching a video, I can do this.
---
For the last two years in my building, by district mandate the math department has weighted tests and quizzes as 75% of the grade. (No pressure, right?). Our teachers immediately recognized if tests were gonna be that high-stakes we needed to offer an opportunity for re-takes, especially to our most struggling students.
As it turned out, the kids who most need the retake opportunities never took advantage. Most of my takers are that kid who got a 70% and wants an A. That's cool with me tho. Like I'm gonna say "no" when one of my students comes to me asking to do more math.
This year, the first semester anyway, the retakes have resulted in some really good scores. Some of our teachers cap the re-take score at 60%, but I decided that if my students were going to make the effort to come see me on their own time, sit and talk about their original quiz, then re-learn the material before retaking the quiz, that they should get whatever grade they earn.
It sounds weird, but I really, truly, honestly want every one of my kids to ace every test. I want them to earn the grade they get, but I want every one of them to walk out of YL107 at the end of the term with an A. I'm not that teacher that thinks it somehow reflects poorly on me. The one that brags about how many kids are failing or how brutally hard I write a test. Like the great Jon Corippo says, why can't every kid get an A? Not the grade-inflated kind that get handed out like Halloween candy, but the real deal. The "I learned what I was supposed to learn and I can prove it" kind.
Even better, their self-reported level of understanding is going up. They are telling me that the process of watching the video and working along with me is helping.
Awesome, yeah?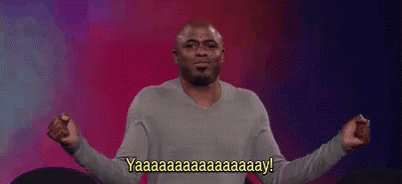 And I'm open to the possibility that there is cheating and answer-sharing going on. That wouldn't be different than the regular quiz administration tho.
But the results of the re-takes got me thinking. Why aren't they doing better on the original quiz? What am I missing as far as helping them prepare to take a quiz, vs. the supporting them on the retake? I mean, a tutorial video immediately followed by an open-note quiz is a lot of support. Too much? Maybe. But I need to look at my practices leading up to Quiz Day. Is there some middle ground for us?
We normally do a two-day review:
One day a Desmos activity or something else collaborative and interactive gleaned from the #MTBoS
The next day a written study guide so they can practice problems matching the skills on the quiz
Do they need to study more on their own? Do I need to get them more reps in class? Maybe a tutorial video of the study guide pushed to them through Canvas?
Maybe I should ask them (*cough* Google Form *coughcough*).
Inquiring minds want to know. Really, for me it's kind of a "need to know" thing. I just found my bellringer for Monday, in any case. I'll let you know what they tell me.