"It's a deal, it's a contract, it's an agreement that you, as student and family, make with educational institutions. It's an agreement in which, for it to be worth it to you, elements must stay balanced.

As in: Not everything the school is going to ask of me is going to great or even valuable. There are going to be irritating aspects of school. But all of that is balanced by what the school experience gives.

Just like the rest of life, right?

So just as in the rest of life, we make constant cost-benefit analyses. Is the good I'm deriving worth the cost I'm paying?"

— Amy Welborn, "Homeschooling… Again?!", 8/7/17
Spending some time today pondering: How would I answer a parent (or a student) asking that same question: "Is the good I'm deriving worth the cost I'm paying?"
School starts in a week, and I'm having long thoughts about grading and homework and how class time is spent and everything. I can do better. I know my grading/points system was out of whack last school year. Many times I knew a student's letter grade didn't really reflect his ability to do math.
I have to fix that.
I know there's a premium on time when classes are 50 minutes long. I want kids thinking and arguing and defending their positions and solving problems and working together and practicing skills and having a chance to ask questions and get feedback on their efforts.
And I'm pretty sure that unless I invent a way to elongate time that I can't do all those things in one class period.
---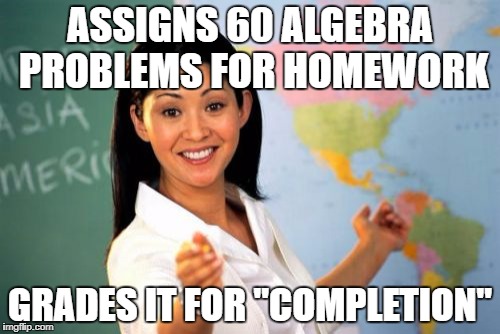 Along comes the Dynamic Duo: Matt Miller and Alice Keeler. The question has been around for a while: is homework worth the time and aggravation? Does it encourage learning? Does it increase the educational divide between students of different socio-economic classes? There is much research that at least suggests there is a better way. These two well-known teacher/presenters aim to provide the why and the how for doing things different.
I've been reading Matt's blog for years. I read his first book, Ditch That Textbook, around this time last year. I've seen videos of Alice pitching her homework theories. To be honest, the Halo Effect is strong around these two. I'm predisposed to read their stuff, punch my fist in the air and shout "Yes"! So I'm intentionally adopting the posture of a skeptic as I read #DitchHW. Playing the Devil's Advocate. I'm trying hard to punch holes in their argument. I've got a tendency to take a new idea and run with it. I want to make sure this one has staying power. To justify putting my teaching money where my mouth is.
But they're making their case well.
I don't know about you, but when I don't see the value in something I'm asked to do…. I don't want to do it. That just sounds like the set-up for a power struggle. Even if the research leaned towards homework as a great educational tool, the kids who refuse to do the homework won't do the learning. And that's a problem.
Here's what I saw in my classroom. Pick a year – could be 2003, 2008, 2012, or last May:
About 35% of my students legitimately do the homework on their own
Another 30-40% copy the work from the students in the first group
The rest don't do homework at all
Even when I point out they are getting points just for effort, enough points in a quarter to equal a quiz score
They'll copy homework blatantly in class from a seatmate
They'll snap their homework and text/snapchat it to friends
They will see similar problems a week later on a review sheet and look at me like they've never seen that type of problem before
Learning has not occurred, people.
On the other hand, the best days for my students are days when there is collaborative work, with students having chances to help each other and to get help and feedback from me.
That sounds like something I'd like to have happen more often.
---
These two really know how to get my attention, that's for sure:
So the bait has been set. Time to reel in the catch.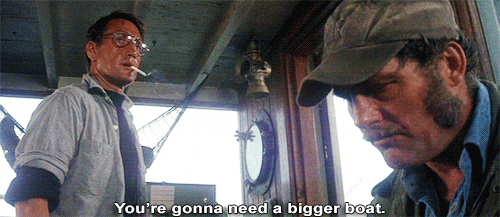 Miller and Keeler go on to suggest ways for teachers to build relationships with students and parents so that we get buy-in from our two most important stakeholders, offer tips to provide timely and useful feedback, and they examine the brain science of the change-over that will help students own their own learning.
So the Why is in place. We'll look at the how, and process my takeaways, in Part Two.