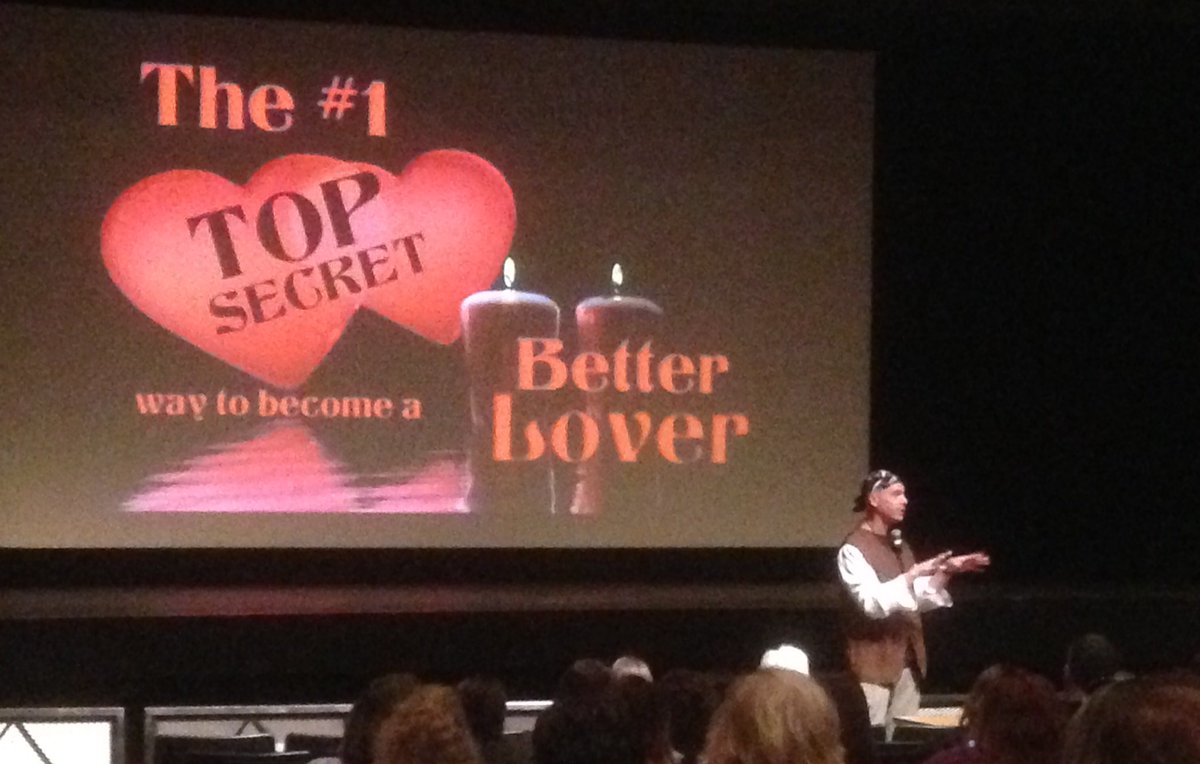 Yeah, I know. 2012 was a long time ago. Doing a One-Man Book Club post on Teach Like A Pirate is like live-tweeting an episode of The Office I'm watching on Netflix. But it's what I'm reading right now and the thoughts are spilling out of my head onto my screen, and for many of my colleagues at the South Shore e-Learning Conference it was their first exposure to this loud, crazy SoCal guy. I wanted to watch the show through their prism, and the experience stirred up some memories.
Dave Burgess keynoted a conference I presented at last week. Leading up to the two-day event I went to the library and got his book. Even though I'd seen him outline his TLAP philosophy with Matt Miller on the 2016 Virtual Summit, I was pretty psyched to get the In-Person experience. I still wanted to read the words in black and white.
(Burgess runs at like 7000 rpm. My laid-back Vegas kids used to tell me I talked too fast. If they were in a room trying to listen to the Teach Like A Pirate keynote their heads would have exploded. Having read the book was like having built-in subtitles for the presentation. 10/10 would recommend.)
---
I just finished my 15th year of teaching. I was a pretty by-the-book guy at the beginning. Things have changed since those early years, thanks in part to a lot of reading, a lot of connecting, a lot of trial-and-error. And error. And error. Let's just say I've been trying to get better for a while. Reading Teach Like A Pirate, my mind snapped. I recalled a long-ago online conversation I had with Matt Vaudrey, co-author of Classroom Chef.
If you've read the book or seen the TLAP preso, you know what started my reverie. The Six Words.
"It's Easy For You. You're Creative."
I remember struggling with classes that weren't buying what I was selling. I remember spending prep time and after-school time searching for activities and lessons that would get my students' attention. I remember being amazed at what my fellow math teachers were rolling out to their students. Everything I found online was brilliant and clever and creative. I remember thinking, "there's no way I could come up with stuff like that on my own." I remember falling flat on my face many a time.
But I remember having success just often enough to keep trying. Which is good, because as one of my favorite UNLV professors used to say, teaching is like being a performer. And you have to nail 900 shows a year.
All these years down the line I should point out, she never told us how tough the audience would be for those 900 shows. Or that they'd be able to tune us out with a tiny little computer they'd all carry in their pockets.
As Burgess says: "Would your kids be there if they didn't have to be? Do you have any lessons you could sell tickets to?" I felt like I had to work harder than anyone else because before I could teach my kids anything, I needed to make them want to show up for my class. I used to tell them, "someday I'll be that old, bitter teacher who hands out a worksheet then goes to read the paper with my feet up on my desk. But today ain't gonna be that day."
---
I'm not a pirate. Not a good one, anyway. But I'm down with Lesson Design. Which, it turns out, once you get past the bandanna and earring, and the grilling analogies, is what "Teaching Like A Pirate" is all about. Intentional lesson design, every time.
I've got a certificate on my classroom wall from ETS. It's a Certificate of Excellence for my score on the Math Praxis exam. Me and a couple of my UNLV classmates studied hard for that test. The semester of student teaching we met three times a week after school at a coffeeshop/bookstore near where we all taught in Vegas to work through problems from the study guide. But the State of Nevada also requires a passing score on the Pedagogy test for licensing. Ugh. That one is not as easy. My idea of lesson planning as a pre-service teacher was limited to:
Check the section in the textbook
Select example problems
Select guided practice problems
Select homework problems
Rinse, repeat
That's all. And on the Praxis or in the classroom, it wasn't good enough.
I eventually stumbled across Dan Meyer and the greater MTBoS and started to get an idea of teaching with the end in mind. It's a concept that Bill Hanlon of the Southern Nevada RPDP introduced to us. It was a unit design tactic he called BAM, but it applied equally to lesson design. Later on I was exposed to Desmos, and then Hyperdocs. All tools for designing lessons from the ground up, thinking deeply about what questions to ask, what I wanted my students to ponder, what tools and resources they would need.
I've claimed as a class motto for years, "You want better answers? Ask better questions." Turns out I have common ground with Burgess there too.
Then Burgess goes on to include a section with literally hundreds of questions a teacher can ask when planning a lesson, questions that can spark creativity and create hooks to student engagement. Pretty much everyone I know can take two or three or six of these questions and create something incredible in their classroom. Without a single trip to Goodwill.
---
This slideshow requires JavaScript.
It turns out that once you get past the pirate persona there is a seriously good teacher who is passionate about not just punching a clock, but in creating learning experiences for his students. And Teach Like A Pirate makes clear that there is no secret sauce, except for a willingness to take chances, to accept failure as part of learning, and to recognize that nothing great comes easy.
I don't know about greatness. I'm still trying, still learning. I doubt I'll ever have a "guest speaker". But we sing and dance a lot in my classes, get up and move around. Use visual hooks. Stick crazy memes and GIFs in my slide deck. Try new things. Shift on the fly when it's called for.
Maybe I'm not such a bad pirate after all.