I spent many a weekend night as a young adult hanging with the fellas, drinking beer and playing cards. One of the dads who would occasionally sit in on the games was famous for his table banter as he dealt the cards. His most memorable line, deadpanned as he dealt a pair of aces across the table: "Gentlemen, the price of poker just went up."
Well, in my building, the price of poker just went up. Time to for me to put my money where my mouth is.
We've been moving slowly towards a more tech-rich environment over the last year or so. One high school in our district has already made the leap to 1:1 with Chromebooks, and we have made steps in that direction with some informal PD, and each department having use of a Chromebook cart. There is some grant money available to beef up our infrastructure so we can increase the amount of tech available to support teaching and learning.
So at our last faculty meeting, our principal extended a challenge. She announced that next school year we are moving to an emphasis on more authentic learning opportunities for our students.
"Next year – if you're gonna be with me, we're going to move forward on this together."
She told us she hoped to see our staff move to "blended learning".
So, what does that mean?
George Couros posted on exactly that question recently:
If you google "What is blended learning?", you will find the following definition:

Blended learning is a formal education program in which a student learns at least in part through delivery of content and instruction via digital and online media with some element of student control over time, place, path, or pace.

Right now, I do not think of this blog as "blending my learning" even though it is online and I was in a face-to-face setting earlier. It is just the way I connect and deepen my thinking.  Is Googling something when you are interested really something that we would deem "blended" in 2016?

Why I point this out is not for people to feel bad for using the term "blended learning". My hope is that we get to a point that having an online component to our classrooms where students have an opportunity to learn with "control over time, place, path, or pace", just becomes what we see as the norm, not the exception.
That sounds like exactly what we have in mind. Like so much education jargon, maybe "blended learning" has lost a bit of its meaning. Maybe a better term for what we are aiming for is "connected learning"? The ability to bring tech to the party changes everything. Including the culture. It's a huge leap from "sit here and take these notes and do these practice problems" to "holy crap, this guy's students just verified a graph of the dating pool by age in an xkcd strip."
What could this look like? Jonathan Claydon says boring 1:1 can still be pretty cool. Especially when you don't force the tech where pencil and paper would do as good a job, quicker.
But, he notes in a post titled "Boring 1:1", about the worst possible thing is to use tech as an electronic multiple-choice worksheet machine.
At a local EdCamp, there was buzz about Google Classroom. But the end result was a lot of people migrating fill-in-the-blank worksheets and debating ways to have students fill in the blanks electronically. Or yet another way to boil math down into computer friendly multiple-choice sets. When asked (I usually just listen at these things), I said it's the wrong approach entirely. You haven't thought about whether filling in blanks or skimming through multiple choice was an appropriate assignment in the first place. Ask any college kid putting up with MathXL.
Do we need a #DitchBook club? Maybe a small group in the building gets together to learn how one guy (a one-man department, actually) in a small high school in rural Indiana left the textbook on the shelf and used technology to help his students break down classroom walls.
Or #TLAP? I don't know. I do know the answer isn't using thousands of dollars worth of Chromebooks to have our students pretend to do PLATO all day.
I spend part of every Tuesday night at the #connectedtl chat. Or as I like to call it, "My West Coast Teacher Brain". Here was Question 1 from a few weeks ago, on site-level leadership: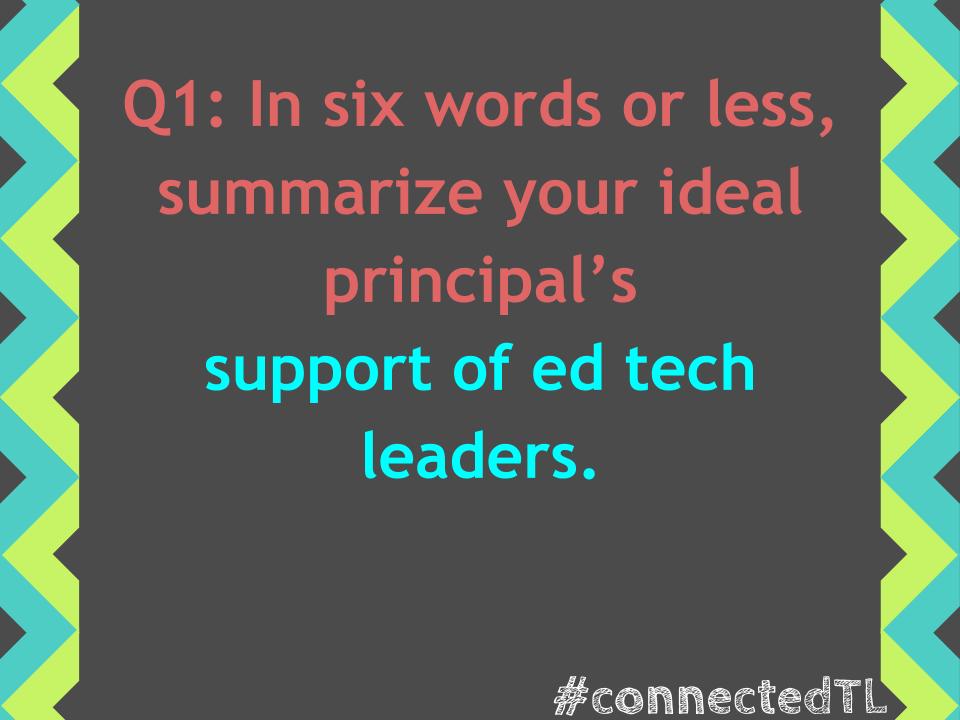 As always, Matt Vaudrey brings the goods:
That's what I heard at that faculty meeting.
So we have a plan. Good. Having a plan is great, but…
..once the theme is in place, how do we implement concrete strategies?
Here's how: SCH Tech Day. My district has planned a Tech Day for a couple of weeks after school lets out, with teachers as presenters. I've been subtly trying to plant the seeds for an EdCampHMD for a couple of years. I know I had less than zero hand in it becoming reality, but: Now here it is.
Of course, you wanna have a camp , you need presenters.
Ooooh! Pick me pick me pick me pickme.
Seriously, if  after all this there's not a a dozen teachers in my building next year crushing seamlessly integrated tech awesomeness with totally bitchin' authentic student products to show for it, I'll be sorely disappointed.
Maybe we won't be IowaBIG (who is), but still. To paraphrase the great Shawn Cornally: We did it, so….
Yep, the price of poker just went up. We'll see you, and raise…